About us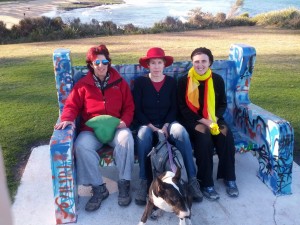 Kate has completed a Certificate in Captive Animal Management at Richmond College of TAFE. She has worked and volunteered for various animal organisations and private animal collections. Kate has practiced animal husbandry with exotic, native and domestic animals. She organised a parrot training workshop at Taronga Zoo and has given animal presentations at schools and environmental days.
Kate has also been active in rehabilitating wildlife for WIRES and has been an RSPCA foster carer. She has been involved in habitat preservation on the east coast of Australia, removing native animals from sites before clearing. Kate is passionate about environmental enrichment for domestic and captive animals.
Alex has a Bachelor of Science degree majoring in ecology. She is very experienced in caring for dogs and cats and has been involved in many dog obedience and agility training groups with her bull terrier. She loves walking dogs.
Victoria has cared for many pets, including a family sheep. Victoria has been involved in many dog-training groups. She has also taken part in WIRES snake and bird rescues. Like all members of our team, Victoria is attentive to the needs of the pets and the other animals she cares for.